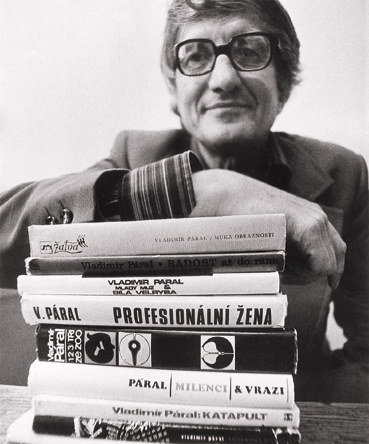 He is a contemporary writer, fom Czech Republik, one of my favourite writers. He started his career as an engineer, and was published first with a novel, Fair Granted Wishes. I searched for a picture of him from the sixties, as according to my book covers, he was a handsome man. Nowadays he is eighty years old. I found an online available description and details from his book, Lovers and murders: Magazine of cater before year 2000
it's a good start.
My newest purchase is "Young man and white whale: Little chemical epic." It's about an inexperienced young man, Breta, who longs for adventures, and reads Moby Dick, and just like the Captain, he wants to do something big, achieve something, but in the beginning he is stuck into a dull, boring life. His older roomate, Victor, is a genious chemical engineer, who had a burnout, and moved back to the remote town, where he started to work. He only wants a dayly routine, yoga, healthy air and sun. To this peacful setting arrives Edita, a beautyful carrer woman, ex-lover of Victor, who chose promotion and left him, heartbroken AND totally burned out. Now she needs his help to finish an experiment. To make things more complicated, she brings along her assistant, Nadja, (who is beautyful, too of course!) not only to help in the experiments, but to "persuade gently" Victor, to help them. Only they can't proceed, without the permission of the plantmanager: Breta. Everyone falls for the bad person, things start to become tragicomical, when something happens wich decides, that the end will be purely tragic or comic. I don't want to give it away. :)
What makes him special: The narrator is not the same, it switches, sometimes we read Nadja's toughts as she cries about her past unhappy romances, sometimes Vic remembers the "good old times" sometimes a neutral voice describes the scenery, but Breta chimes in, telling us how it looked like before he bought his motorbike. Also, "postmodern steals" the well-read author makes references to other book in his books. I only read Feuchtwanger's Ugly Dutchess thanks to a one-time mention in his book. In Lovers and murders he even adds as "illustrations" short news, unrelated to the story.
Characters:
So multidimensional, you will cr@p dodecahedrons. There is development, and everything.


Plot:
There is always an unexpected twist. Even if you expect an unexpected twist. I re-read for the zillionth time, an I can still find new references, hidden between the lines.


Cultural snobbery-factor:
Imagine saying this: "This afternoon I finished reading Lovers and Murders, a gem of contemporary Czech prose..." yeah, quite high cultural snobbery-factor here.


My reactions:
Should I die right now, or should I get gang-banged first? (Read Lovers and Murders to get the joke.) Life is pointless. Let's drink vodka. Are those real places, anyway? Booo-hooo-hoo. I am the third generation. My survival skills are way too limited. I just don't remember what it is to be hungry.

Available:
Amazon sells Lovers and murders, The four Sonjas, and Catapult. Ebay sells Catapult, and a german version "Der Krieg mit dem Multitier." Not easy to get the sci-fi ones except if you speak czech, as none of them is translated to english. On goodread you can read SOME of them.
PS.: I'd never guess that he has more porn-potential than the Spiderman. What is porn potential? Type something in google picture search, and scroll, till you see tits. Fifth row, in his case. Strange. :D